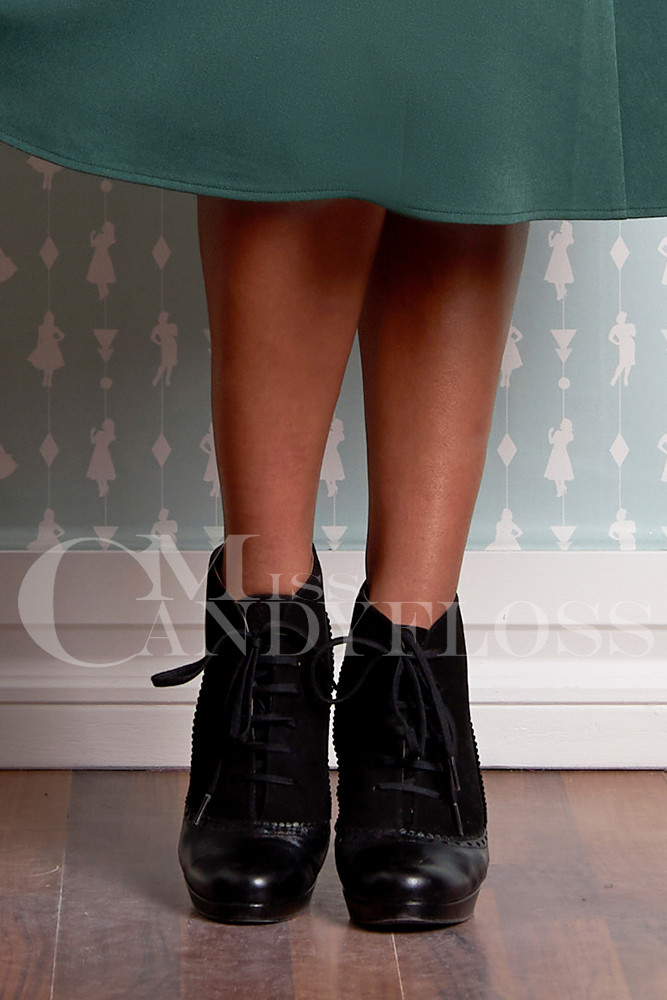 Lorena-Lou
Classy booties

Product description
The basic kind of bootie , that should be mandatory in any lady's closet...
We present to you our Lorena-Lou booties! Comfortable enough to wear for hours and extremely versatile: You will surely fall in love with them as we did! 
 Carefully crafted  in  a combination of suede and leather in black, 
Lorena  has  a comfortable round toe and its laces will allow you to adjust them as they fit you better. 
The toe is round and feminine with a strong vintage vibe.
  Wide both in the toe and the metatarsus area.
Lorena has a 1,5 cm platform:  Among the most comfortable shoes to walk in.
Make any of your looks extra special , one step at a time!


Heel height is 7,5 cm covered in leather
Platform 1,5 also covered in leather
Run true to size.
Quality: 100% Leather 
Made in Spain
If between sizes size up! Avoid the suffering . It is always easier to go with comfortable shoes. 

| | | | | | | | |
| --- | --- | --- | --- | --- | --- | --- | --- |
| | 36 | 37 | 38 | 39 | 40 | 41 | 42 |
| Length (in) | 8,87 | 9,06 | 9,37 | 9,68 | 10 | 10,31 | 10,52 |
| Length (cm) | 22,4-23 | 23,1-23,7 | 23,8-24,3 | 24,4-25 | 25,1-25,7 | 25,8-26,5 | 26,6-27,5 |